Splunk IT Service Intelligence
Executive Roundtable Series
Simplify service monitoring with data-driven analytics
You told us you need a service-level view of IT to define and manage IT services. You also told us that you need a way to streamline typical monitoring approaches, to better understand which services and metrics are most critical. But you want more than just metrics. You need actionable insights into real-time service health. We listened.

Join Splunk executives at an exclusive roundtable discussion for in-depth insights into Splunk IT Service Intelligence (ITSI), a next-generation monitoring and analytics solution built on top of the Splunk Platform.
Discussion topics include:
What problems ITSI was designed to help you solve
How your organization can achieve fast time to value using ITSI
Insights on benefits ITSI is providing early adopters
What results your organization can expect to receive immediately from deploying ITSI
How to get started with ITSI today
Get Started
Check the schedule below to find an exclusive Executive Roundtable in your area and register. Space is limited.
Executive Roundtable Dates and Locations
Select individual locations for more details on the Executive Roundtable experience scheduled in your area.
City
Date
Time
Location
Registration
Long Beach, CA
Tuesday,
March 22, 2016
5:00 p.m.
Aquarium of the Pacific
Register Now
Seattle, WA
Thursday,
March 24, 2016
5:00 p.m.
Westland Distillery
Register Now
Service Analyzer Dashboard

Glass Tables

Deep Dives

Multi KPI Alerts

Notable Events Review

Anomaly Detection
Service Analyzer Dashboard
Quickly see a high-level view of your services, including key performance indicators
and composite health scores.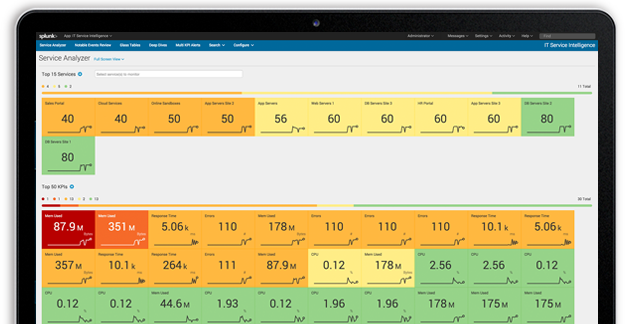 Glass Tables
Personalize visualization of your services and map KPIs
to easily pinpoint what matters the most.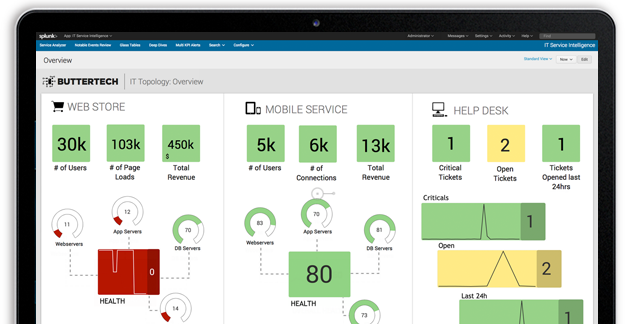 Deep Dives
Clearly and intuitively identify systemic issues and bridge functional IT silos to collaborate across functions intelligently for faster problem resolution.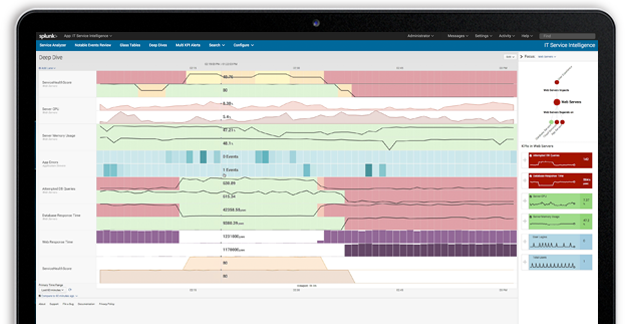 Multi KPI Alerts
Respond and focus on events that really matter. Multi KPI Alerts enable you to define correlation rules, assign composite scores and set relative importance across KPIs to generate the most meaningful notable event.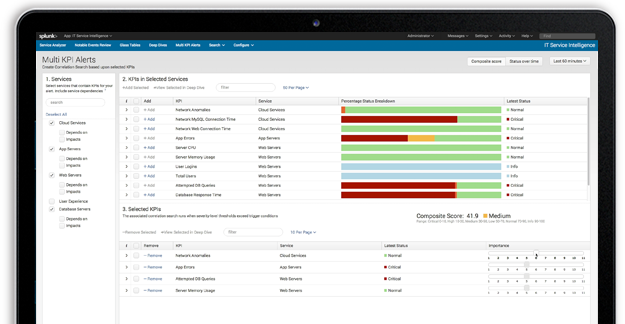 Notable Events Review
Track incident lifecycle, perform administrative actions and automate incident workflows. The Notable Events Review presents the results from the correlation searches in an easy to understand report.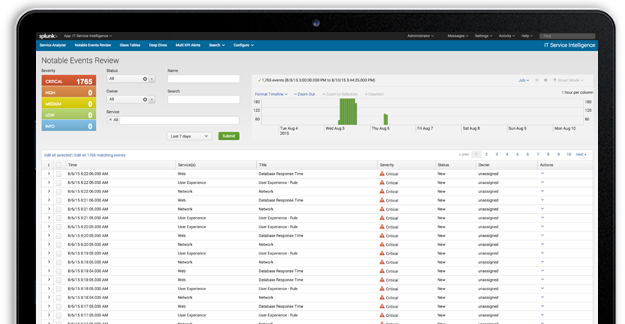 Anomaly Detection
Identify anomalous behavior to address problems before they affect customers. Employ machine learning to baseline normal operational patterns and adapt thresholds to changing behavior in real-time.