The AWS Re:Start programme aims to bridge the digital skills gap by educating young adults of the Prince's Trust and military veterans, spouses and reservists on the latest software development and cloud computing technologies. Through this initiative, they are provided technical training and the opportunity for work placements at AWS's partners, Splunk included.
Last year, we welcomed several young people from the Prince's Trust for work placements at Splunk UK. They had the opportunity to work within different departments, and learn about Splunk's products and technology. And as it turned out, we learned quite a lot from them too!
I sat down with three of our budding technologists - Malcolm, Thinesh and Nazim - to hear more about their AWS Re:Start experience, and plans for the future.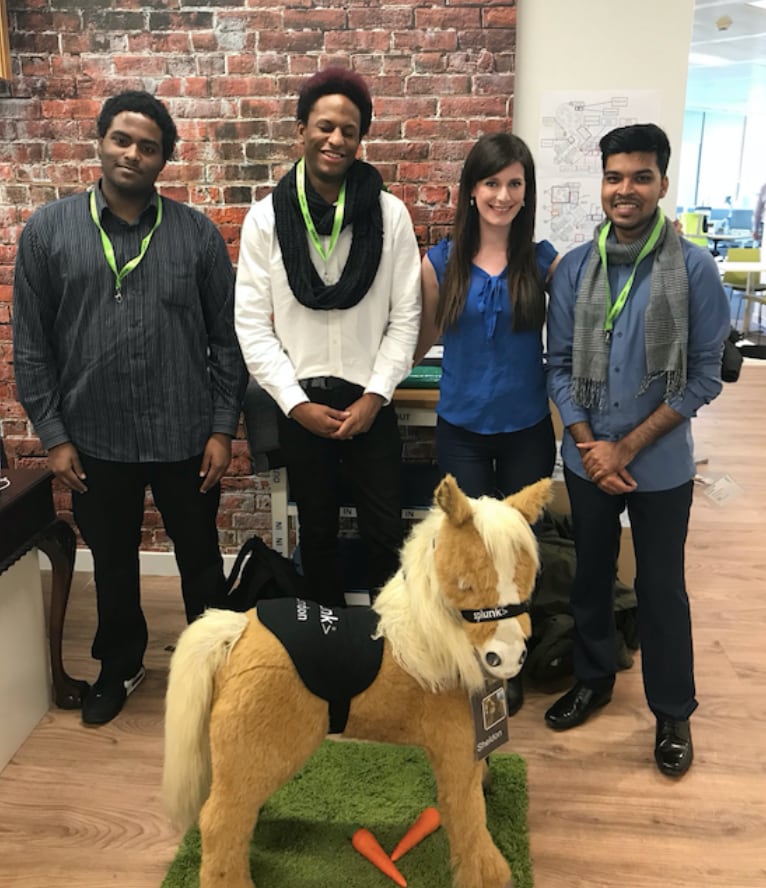 How did you get involved in the Prince's Trust and the AWS re:Start programme?
Malcolm: It was quite a journey for me – after dropping out of University for personal reasons, I was referred to the Prince's Trust. They alerted me to AWS Re:Start - all I knew about the programme at the time was that it was being run by Amazon!
Nazim: I was looking for work and had given my contact details to the Prince's Trust. When I enrolled on the AWS Re:Start programme, I had no idea of what I wanted to do for a career but was considering IT as an option. I thought it would be a step in the right direction to get into the tech industry, and would give me the relevant skills and experience.
What originally interested you in a career in technology?
Thinesh: I was good at Maths and ICT at school, so combined my skills in both by doing a BSc in Computer Science. I can remember programming until 5AM in the morning during university because of the interest I had in technology! There's something new to learn every day – I could never grow bored!
Nazim: Technology is becoming more and more prevalent in people's lives. There will always be career opportunities in the tech industry – it keeps evolving and growing, and will never become stagnant or boring as long as there is innovation.
What has been your favourite part of the placement and why?
Thinesh: During my placement, I always woke up with excitement and a smile on my face. My favourite thing about Splunk is the people, culture and friendly environment. People at Splunk really care about each other and are very down to earth. Free lunch and free snacks helped to make the week amazing - in fact, it made my weekends seem boring!
Malcolm: I enjoyed every moment of it – it was a completely new experience. It surprised me that I could grasp and learn so much about Splunk. If I had to choose, my favourite moment would be using the Splunk software to sort the data I selected from Kaggle. I loved single every moment during the placement – it flew by!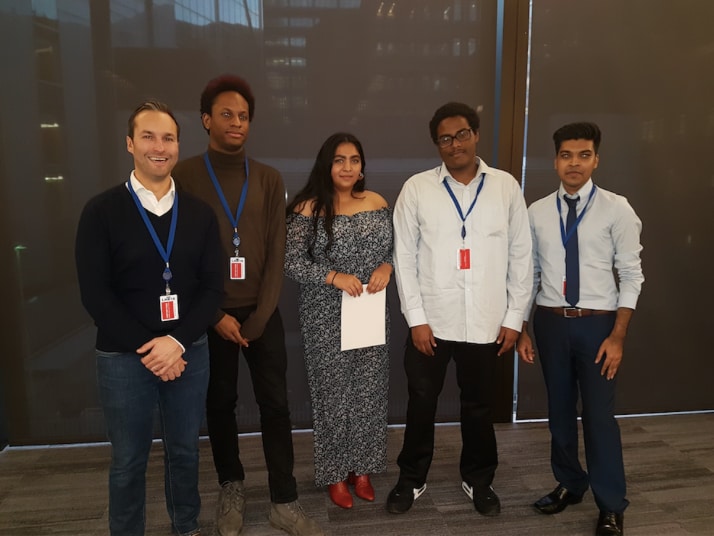 What have you learned from your experience and how will you use it in future?
Nazim: The experience boosted my confidence. I had no idea of what I wanted to do before, whereas now I have a clearer focus. It has given me a glimpse of what it would be like to pursue tech as a career, and what that would involve. I built valuable skills through solo and group presentations, and learned some of the fundamentals of coding, database and the agile development methodology. I will carry these skills with me and keep pushing the boundaries of my comfort zone.
Thinesh: It has helped me to develop my self-confidence, meeting a lot people and learning about their job roles. Learning about their paths gave me the motivation to keep going forward and opened my eyes to the opportunities out there. Learning about Splunk has also motivated me to have a career in Data Science.