Digital transformation is disrupting how public sector IT delivers and supports mission-critical services. Earlier this summer, Splunk commissioned the Ponemon Institute to conduct an independent survey across public sector segments in the U.S. and UK; you can see the complete results in the Challenges & Trends in Public Sector IT Operations reports.
In the previous two blogs, we provided highlights of the survey and dug deep into the complications and growing confidence gap for enabling digital transformation facing public sector IT. While there are headwinds to digital transformation, the research found a very clear opportunity to take on the challenges and close the confidence gap for delivering positive results. That opportunity, in one word: DevOps.
Why DevOps Is a Source of Optimism for the Public Sector
DevOps is on the cusp of widespread adoption in the public sector. Seventy-eight percent of respondents say their organization has either adopted or is planning to adopt DevOps practices, and it's not just for side projects—74 percent of organizations plan to apply DevOps tools and processes to their mission-critical systems.
They're also doing it for all the right reasons. Customer expectations, on-time and on-budget project delivery and service quality were all consistently cited.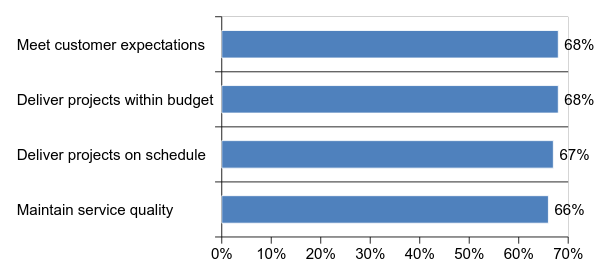 Adopting DevOps in Your Team
Many things are easier said than done; adopting new approaches like DevOps in your organization is one of them. Here are a few ideas to make your DevOps approach a success:
Recognize IT complexity not as as an inhibitor for change, but a driver for that change.
That same IT complexity is what drives the silo-approach within organizations, which was well documented in the survey. DevOps-based transitions won't merely happen because there is a larger investment in DevOps tools, it also will require shifts in culture and mindset. My colleague and friend Andi Mann recently wrote a wonderful article on the mindset you'll need to adopt DevOps in your organization.
For any mission-critical project, you need to have clear objectives and milestones.
Break down the tasks that support those objectives and milestones. Getting "quick wins" and demonstrating progress will ensure you are running your project on-time and on-budget. Additionally, the early enthusiasm won't stall out when your transformation hits inevitable road bumps.
Empower your teams with data.
Effective DevOps means ensuring you're measuring the right things, and that the information is accessible to the teams that need it. I cannot recommend strongly enough the importance of a platform that enables multiple teams to solve problems with the same data. They might use a different "lens" to analyze that data—developers focus on different issues than operations teams, for example—but they should share the same set of facts.
Check out how Splunk supports DevOps and helps to drive high-performing organizations with visibility into their DevOps tools, teams and processes, to drive improvements to the velocity, quality and business impact of software and application delivery in our whitepaper Driving DevOps Success With Data.
Last, if you'd like to learn more about DevOps and Splunk, there is no better place to do it than at .conf2017: The 8th Annual Splunk Conference, which is right in Washington, D.C. on September 25-29. In addition to great keynotes and demonstrations, there are 40 ITOps sessions, 15 of which are focused on DevOps use cases.
We hope you found this blog series interesting and useful!
Happy Splunking,
Ashok and Bill