I'm back in the office after spending the afternoon with a team of 20 other Splunkers at Second Harvest Food Bank in San Jose. Our task was to sort through massive containers of canned vegetables and package them into smaller 24-unit boxes that will be sent to shelters, low-income families and other food distribution centers within the next day.
If you've volunteered before at a place like Second Harvest, you probably were blown away by the scale of poverty and hunger right in our own backyards. Each week, Second Harvest provides one million nutritious meals to families around the Bay Area. These are the essentials that nobody should have to live without.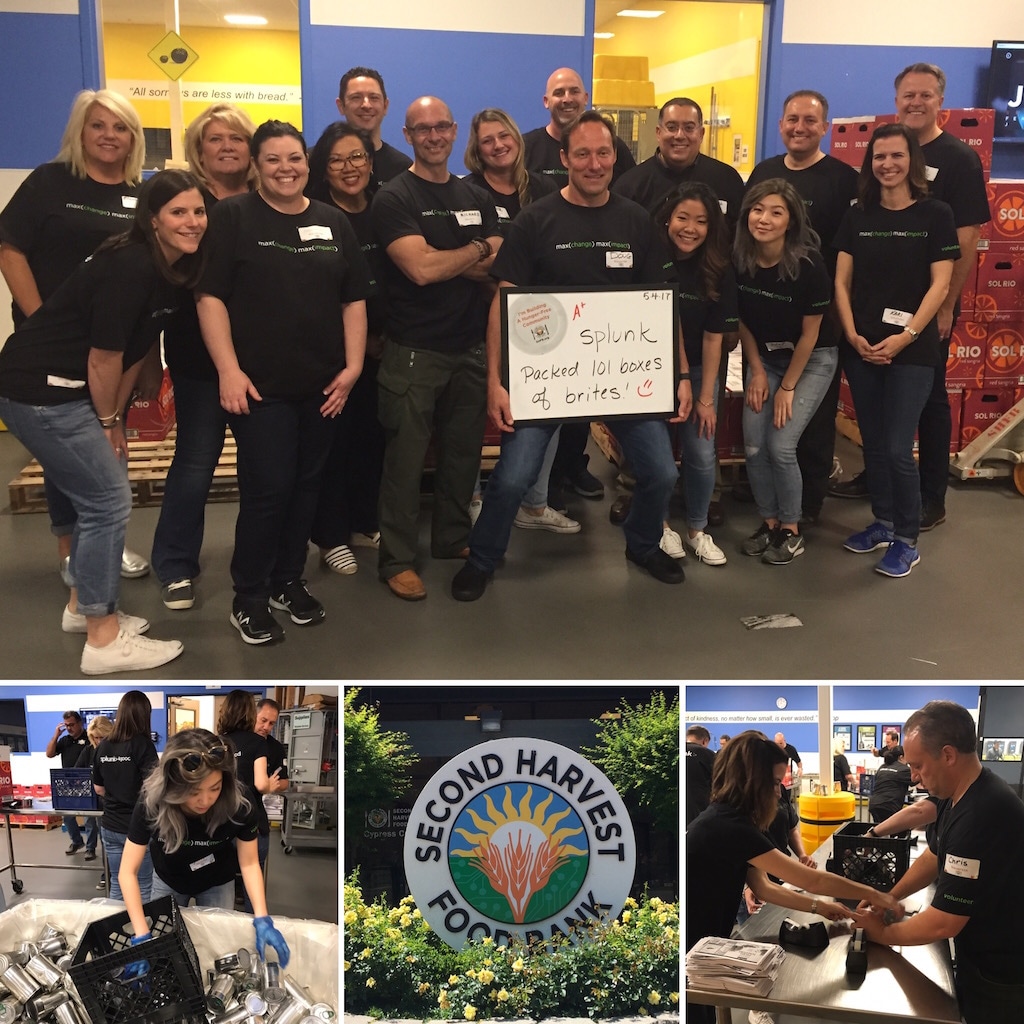 My clothes, hands and arms still smell of cardboard and sweat, and I'm taking this moment to reflect on how fortunate we are -- not only for the safety and comfort in our lives as tech professionals, but that Splunkers are engaged and active in their communities. We had a really great time today – lots of laughs, plenty of physical activity and getting to know some new faces.
I'm so proud and grateful that as a company, we have prioritized our communities and important causes around the world. Our Splunk Pledge and Splunk4Good initiatives have formalized our commitment to donate a minimum of $100 million over a 10-year period in software licenses, training, support and education to nonprofit organizations and educational institutions around the globe to support academic research and generate social impact.
As we enter a new era of explosive growth here at Splunk, we need to think creatively about how we can grow our skills, support our communities, and grow our business – all at once. The Splunk Pledge can help support important causes championed by our employees, customers and partners. It can also help us get Splunk into the hands of students, researchers, and job-seekers.
As part of this program, all Splunk employees have 3 days of paid volunteer time each year to support the causes they care about – that's more than 65,000 hours around the world this year alone. I can't encourage them enough to get active in our community. It feels so great on a personal level, but is also an imperative for a company like Splunk to give back and do its part to make the world a little better.
How can you help? Get involved!
Pledge your time to community. How do you want to give back? Teaching a class? Volunteering at your children's school? Responding to a disaster? Let us know how you want to spend your time – whether employee, customer, or partner.
Spread the word about the Splunk Pledge. It is our $100 million commitment to research, education and community service.
Share your stories! We want to hear your stories of how you are giving back, and how we can help you support.