Even more exciting news from re:invent!
In case you weren't watching the live-stream of the event, you may have missed the keynote announcement this morning about the new service called AWS Personal Health.
Splunk's integration with AWS Personal Health allows AWS customers to proactively monitor over 70 services and quickly act on personal service interruptions informing their users of things like reserved instance retirement, network issues, even instance failures. Before, if there was a network issue, your only way of knowing was based on regional or availability zone messaging. This integration brings an even more personalized experience to using Splunk for monitoring and managing your mission critical workloads in AWS.
The AWS Health API delivers critical data on AWS service quality and issues, and the Splunk App for AWS instantly transforms this data into actionable insights. Using the Splunk App for AWS, customers can quickly drill down to identify impacted applications, roll out remediation and proactively message impacted users.

As the exclusive launch partner for AWS Health, Splunk is excited to integrate the AWS Health API into our Splunk App for AWS to deliver end-to-end visibility across more than 14 AWS services. Splunk visibility for AWS is available starting out for just $3 per day, less than a cup of coffee, and enables customers to gain real-time security, operational, and cost management insights across their entire AWS environment. The Splunk App for AWS allows you to aggregate all your AWS data into one single pane of glass view. Users can display multiple accounts, search by region and even sort data across accounts by tags.
With the release of the Splunk App for AWS V5, we've deepened the product integrations between Splunk and your AWS services, giving you additional visibility into the business critical workloads you're running on AWS. Additionally, AWS customers can integrate data from the AWS Health alongside other data sources like cloudwatch and cloudtrail, in Splunk's out of box interactive topology visualization for faster troubleshooting and easier account management.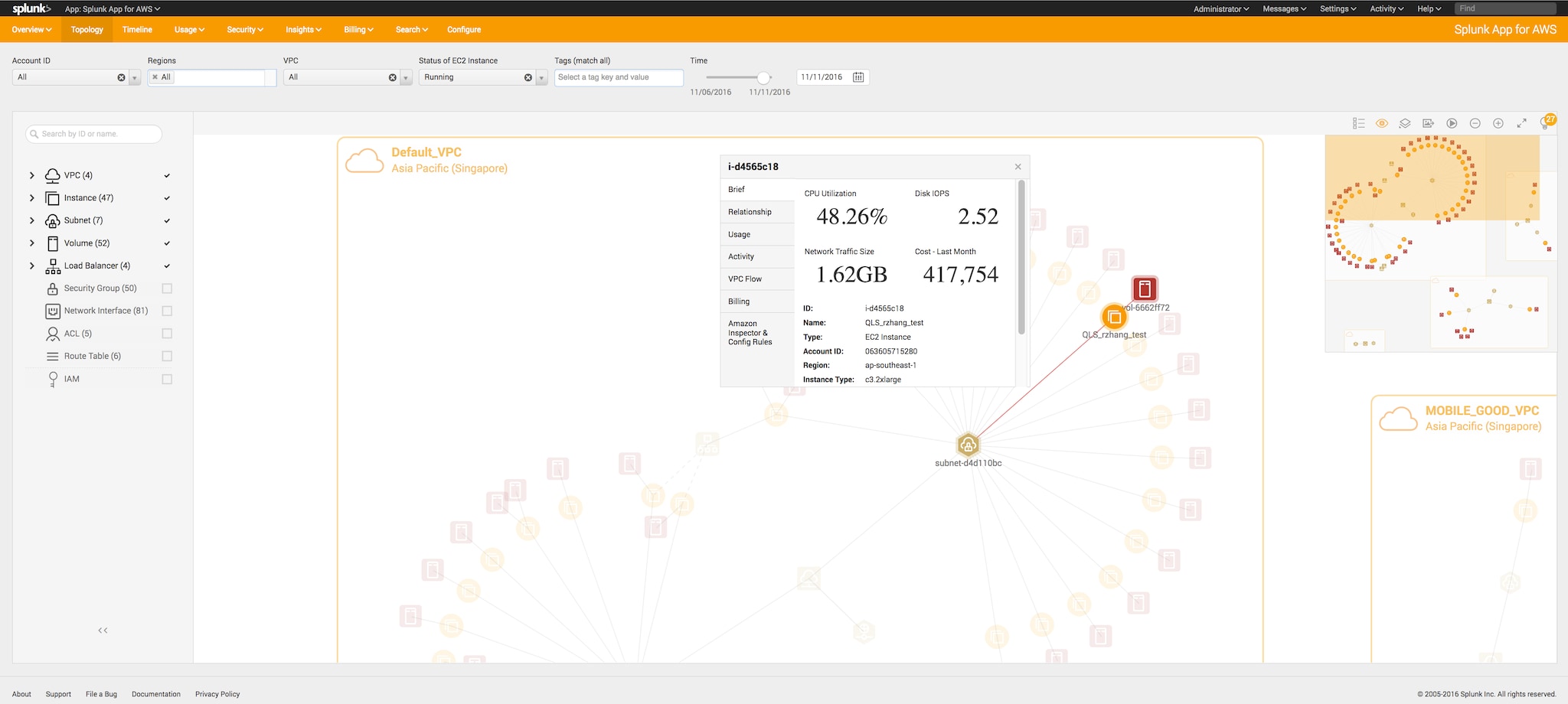 Give it a try for yourself! Your first 6 months are free on AWS Marketplace. Available at an entry price point of $3 per day.
Also, go ahead and check out the new integrations in the Splunk App for AWS!
Happy Splunking!
Randy Young and Keegan Dubbs