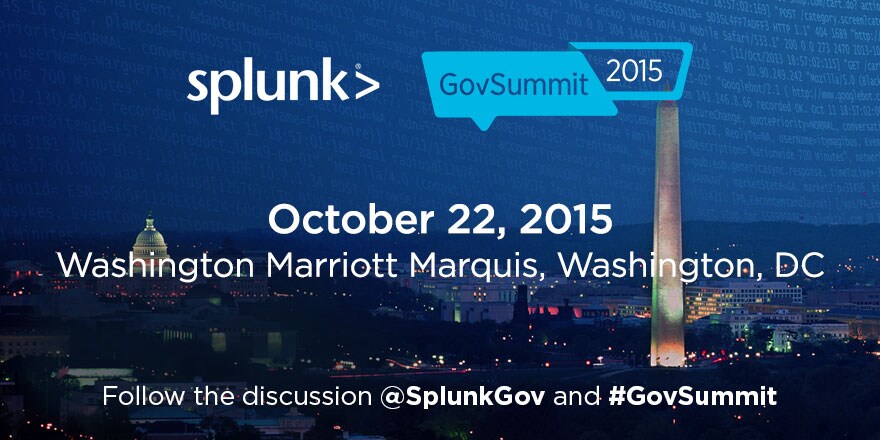 Mark your calendars! The inaugural Splunk GovSummit 2015 is just one short week away.
This year's summit will take place on Thursday October 22nd at the Marriott Marquis in downtown Washington D.C. The theme is "Analytics Now" as the event brings together government and industry leaders to explore how the latest innovations and trends in data analytics, cybersecurity and cloud software are affecting the future of government.
Our exciting roster of speakers will share and demonstrate their experiences, lessons learned and practical ideas for the future. Splunk's public sector partners will also be showcasing how their solutions work with Splunk to provide value to government agencies. Our featured speakers include:
Major Steve Pugh, Cyberspace Defense Officer, White House Military Office
Teresa H. Carlson, Vice President, Worldwide Public Sector, Amazon Web Services
Dan P. Houston, Jr., PMP Manager, IT Analytics, United States Postal Service
General Keith Alexander, USA (Ret.)
Eric Jeanmaire, Chief, Cyber Defense Branch, USCIS
Of course, Splunk public sector executives and technology experts will also be onsite to provide answers to your most pressing questions. Several of Splunk's senior executives will also be speaking at this year's summit, including:
Godfrey R. Sullivan, President, Chief Executive Officer and Chairman
Kevin Davis, Vice President of Public Sector
Snehal Antani, Chief Technology Officer
So whether you are seeking to improve your cybersecurity posture, drive efficiency or maximize the value of your services, GovSummit's 12 sessions and discussions will provide you with the necessary insights and instructions to unleash your data's potential and influence our government's future.
To learn more about this year's summit and to register for free, please visit Follow @splunkgov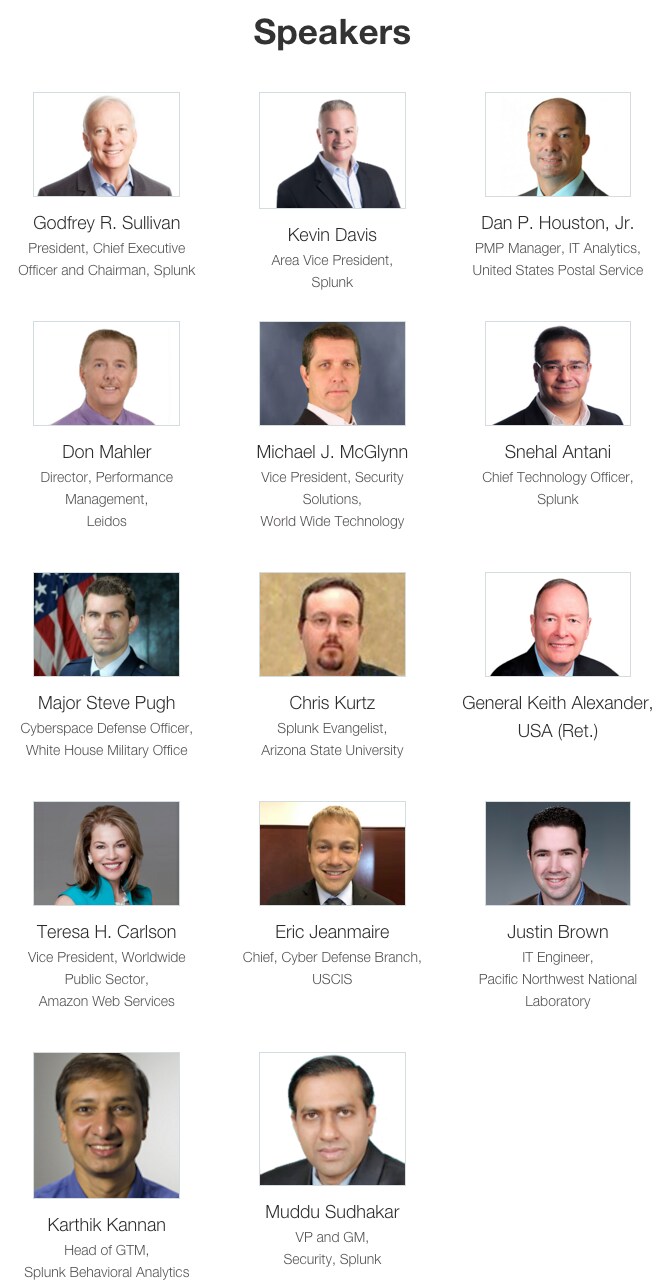 Thanks,
Melissa
Melissa Hardt
Director of Field Marketing, Public Sector
Splunk Inc.