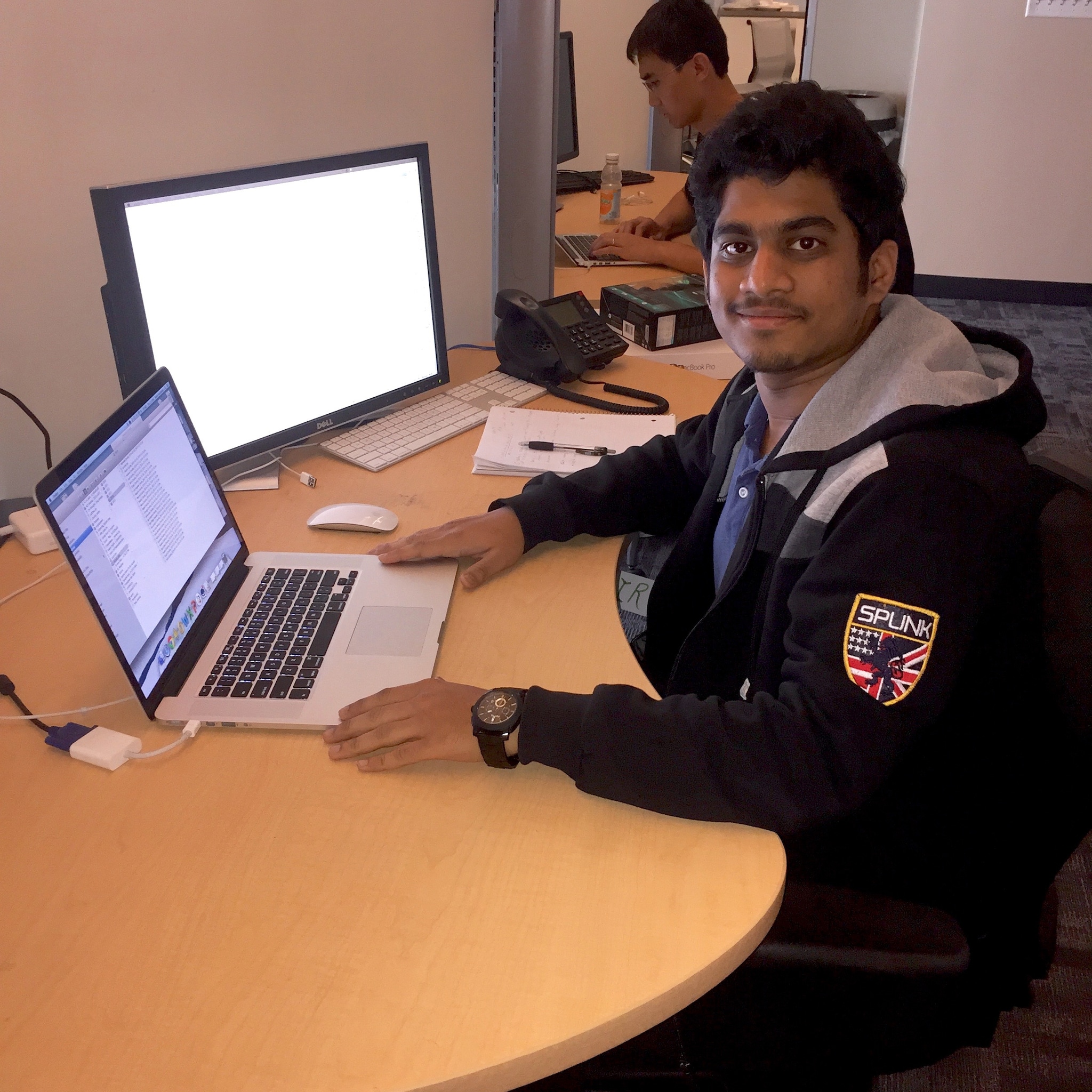 Thanks for joining us for the latest in our Splunktern highlight series! Before we get to the good stuff, here's a little update on what's happening in the Splunktern world. All of the Splunkterns have finally started (WOOHOO!), so Splunk's summer intern program is officially in full swing meaning lots of fun and exciting stuff is in store for us. To celebrate everyone finally starting, we recently had an intern welcome lunch in SF HQ. We got a chance to mingle and meet our fellow Splunkterns from different departments and even a few from different offices.
Even more exciting was the kick off of the Splunk4Good Splunktern App contest. All the Splunkterns were invited to participate in the summer long competition. We, the Splunkterns, were challenged to pick our favorite cause and leverage open data to build a compelling solution in Splunk. There are three teams of four competing against each other and the winning app submissions will be featured on the Splunk4Good website, which is shared with both Splunkers and the world at large. Stay posted for updates on how the Splunkterns tackle this challenge, and to discover who comes out on top! Given the launch of the Splunktern App contest, this week we thought we'd take the opportunity to introduce you to Aamir Goriawala, a Splunk4Good Application Dev intern. Aamir, who is originally from Mumbai, India, is majoring in Data Informatics at the University of Southern California. We had the opportunity to ask Aamir a few questions about his time here at Splunk so far:

How did you find out about Splunk's internship program?
I came across this position on a job board.
What motivated you to apply for an internship at Splunk?
Splunk is a prominent player in the Big Data industry and a leader in dealing with unstructured time series data. I had applied to similar programs and I was sure I wanted to spend my summer leveraging open data and building something that would have a social impact. The position at Splunk had the added advantage that I would be learning how to use Splunk and gain relevant industry experience.
What kind of experience do you hope to gain from your internship?
I am expected to deliver two public facing projects using Splunk, so I hope to be extremely well versed with Splunk functionality, leveraging open data and even do the certifications.
What is the coolest project you're working on this summer?
The challenging part – I am currently working on a project that focuses on California's drought and its economic and public health impact. The challenging aspect in this project is that I will be working with open data made available by government portals, which are not always in the most useable format. Also the data sources are extremely disparate and I will be designing a data model so that I can form a link between the different data sources based on counties and/or dates.
The positive part – Everybody I have met has been extremely friendly, helpful and open. On several occasions I have reached out and explained what I am stuck with and they have tried to solve the issue I was facing which has saved me a lot of time and frustration.
What event are you most looking forward to this summer?
I am looking forward to the Intern Lunch with Mr. Sullivan.
What is your impression of the Splunk culture?
I find it to be quite nurturing, people are very open about what they are working on and they are extremely helpful whenever I have needed a nudge.
What's your favorite snack in the kitchen?
I like the Power bars (Particularly the peanut butter & almond flavored ones).

Thanks to Aamir for taking the time to sit down and share his experience as a Splunktern so far. Next up, we look forward to sharing insights from Anne-Marie Chun, an MBA intern, also based here in SF HQ.
Thanks!
Katrina
Resources:
Internships at Splunk
Splunk University Recruiting on Facebook
Meet the Splunkterns